The 8th annual Couples Shoot was held at Generations Skeet Club near Patton, Pennsylvania, on September 18. The weather was lovely, upper 70s, mostly sunny, and not too much wind, at least by Generations' standards.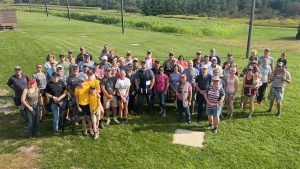 The Couples Shoot was initiated by Generations in 2015, and the initial goals of the shoot remain: to introduce new shooters (especially ladies and younger shooters) to skeet; to have fun shooting while stressing gun safety; to enjoy an early autumn afternoon with a fine group of people, and, of course, to eat!
Twenty-six couples shot this year, four more than last year. Very few skeet shoots in the country have 26 lady shooters.
Shooting began late in the morning, and all four of Generations' skeet fields were involved. Many of the participants were first-time shooters, and several had never handled a gun before in their lives. NSSA Certified Instructors were available to all four fields to help new shooters. Shotguns and shells were provided to any who needed them.
Squads of four or six people were formed. All NSSA safety rules were strictly enforced, but some of the other rules were slightly "bent" at times to help new shooters. For example, some new shooters shot four singles instead of two singles and a double at times, and congratulating a new shooter each time they smoked a bird was strongly encouraged.
After everyone had shot at 50 birds (two rounds), shoot-offs began. Liberal handicaps were applied, which allowed all 26 couples to shoot doubles at 3, 4 and 5. The shoot-offs were also handicapped, with experienced shooters receiving no targets and rookies getting four. Most shoot-offs are somewhat subdued to let the shooters concentrate, but not this group. Up and down the line of fields you could hear hootin' and hollerin' as the ladies were busting targets at doubles. Following the first round of shoot-offs, the remaining eight pairs of shooters proceeded to field 2 for the final shoot-off while everyone else gathered around to cheer on the competitors.
Several new shooters made it to the final field, but even with their handicap they could not hold off Allison Shaffer and Alex Newara, who just kept breaking clays and emerged as the Couples Shoot champions. Alex is new to the game but held his own in the shoot-off. Allison is getting used to this champ stuff, as she was Pennsylvania Ladies HOA Champ at this year's State Shoot. Terry Smith and his grandniece Jenna Smith were Couples Shoot runners-up, and Kevin and Cheryl Smith (no relation to Terry and Jenna) took third place. Cheryl remarked after the shoot-off that she could not believe they won third place. She and Kevin were thrilled. Pictures of the group followed the crowning of the shoot champions with the custom-made crown of shotgun shells, while gift certificates for food and shooting were awarded to all three winning teams.
After the shooting was done, people headed to "The Barn," about 200 yards from the skeet clubhouse, for a fine picnic-style dinner. Ryan Holtz cooked the delicious chicken on-site, and many people brought covered dishes and yummy desserts. There was plenty of food and drink, including homemade wine, but more importantly, many new friendships were formed.
Kudos to the Generations Skeet Family for hosting a great event. We are already looking forward to next year. If you would like to be added to the list of competitors, please email Roy Holtz at royholtz@gmail.com. No prior experience is necessary, and the Generations family will definitely show you a good time.
– Contributed by George Gleich