Mark Travis of Bartlett, Tennessee, returned to Chief Paduke Gun Club after a long hiatus and walked off with the HOA championship. This year's version was also held mid-May, a welcome respite from the sweltering temperatures of the traditional July date. A good time was had by all, with many promises of "see you next year" upon the contestants' Sunday afternoon departures. All competitors and the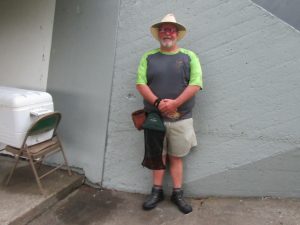 ir respective entourages were treated to a complimentary Saturday night fish fry by Earl Yarbrough and crew, and it was enjoyed by everyone.
Calvert City All-American Ken Ford, MD, posted the only 98 to take opening doubles honors without a shoot-off. Fellow Calvert City Gun Club member Jody Stevenson, showing he had lost little in an almost 10-year layoff, won AA with a 97. Larry Blount, visiting again from the Grand Canyon state, topped A class with a 96. Christian Wagner, an outstanding Junior shooter from Tennessee, was B1 with his 93. Mark Hammond, Elizabethtown, KY, led C with a nice 95. Mike Burrell, Blodgett, MO, was tops in D with 91.
Jody Stevenson cashed in for the second time in a row in the All-Gauge contest, popping the only 100. Scores of 99 were plentiful, though, as that tally from Barry Stevenson topped AA. It was Ford in A, and Jamie Hathcock, (visiting from Springfield, MO) in B. Hunter Burgess, Cordova, TN was best in C, beating Mike Jenkins in a shoot-off of 96s. Burrell won D again, this time with a score of 94. In what was probably the most eagerly watched shoot-off of the event, the Ballentine brothers of Milan, TN, locked horns in the Sub-Junior concurrent, with Owen prevailing over Ethan.
Two shooters had 100s with the yellow shells – Travis and last year's runaway HOA winner, Josh Beard. Josh prevailed in the miss-and-out doubles decider, relegating Mark to AA1. Club president Keith Spivey, inarguably the top gun in Elizabethtown, IL, proved that you can oversee a shoot, repair traps as needed, pull a five-man squad, and still shoot well. He came out the winner in a shoot-off of 99s for the A-class crown over Wagner and Barry Stevenson. Hathcock reserved another spot in the payout line, leading B with his 97. Kevin Brogdon, out of Humboldt, TN, led C with a nice 96, while fellow Volunteer Stater Jack Huckabee, won D with the same score.
After Sunday morning's small-gauge affair, only one red dot appeared on the scoreboard, posted by Keith Brummite, Benton, KY. Travis again showed up on the payout sheet, with his AA class best of 99. Gavin Stevenson, also of Calvert, gave further credence to the fact that the Stevenson men can take a lengthy break from the sport and return at the near-top of their game, taking A class with the lone 99. Perennial KLO participant and CPGC member Rob Gyngard, Florissant, MO, broke 96 for the top spot in B. Burrell triumphed again, this time in the C division, with a 96. Huckabee cashed in for the second time in D with 88.
In the baby bore, Travis prevailed in a three-way tie-breaker of 98s over Ford (A) and B class Spivey. Bartlett, TN, shooter and regular KLO participant Alan Newton led C with a 93, while Huckabee marked again, this time with a 94 that easily outclassed his competition in D class.
Travis' 395 led the HOA chase by a healthy margin of four over Ford (AA1) and Blount (B1) by five. Don Beard, Jackson, MO, topped A with 386. Burgess prevailed in the C division with his 373, with Huckabee leading D at 367.
The KLO continues to run smoothly each year, due mainly to the pitch-in-and-help attitude displayed by many club members. Chief Paduke Gun Club would also like to thank all those that supported and participated. Plan now on signing up early for the 2023 version.
– Contributed by Bob Toy