For 2021, the New Jersey Skeet Championship moved back to Joint Base on September 10-12. The tournament started with Doubles on Friday afternoon, and NJSSA Treasurer Ben Galioto was able to bear down and break a respectable 96 to win the championship. Mason Palidar's 92 took A1, Robert Vrablik shot a nice 93 to take B1, and Neil Alexander and Howie Mann both shot 86s to take C1 and D1, respectively.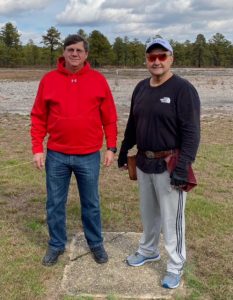 In the 12-gauge event, both Ben Galioto and Jim Seiler broke 98s. A large crowd looked on as Jim and Ben engaged in a fierce shoot-off. After five stations, Galioto claimed the 12-gauge title. Dick Lukasik's 97 earned him AA1. Rick Bagni won B1 also with a 97. Justin Cimino won C1 with a 97, a personal best. Howie Mann iced D1 with a 92, and Ray Stas won E Class.
Saturday afternoon brought the 28-gauge event. Ben Galioto and Robert Nowak, both with 97s, shot off for the Open championship, and after three stations, Galioto took the title. Mike Costello's 94 earned B1 and Joe Madlinger's 93 reeled in C1. Pennsylvania's Gavin Glossner was on fire, breaking a 93 to take D class.
During the evening's well-attended state shoot dinner, it was announced that two deserving sportsmen, Ben Galioto and Ed Amaty, will be inducted into the New Jersey Skeet Shooting Hall of Fame. Both men will be presented with plaques at the 2022 New Jersey State Shoot.
Sunday morning was perfectly still, and Ben Galioto took advantage by breaking a solid 99 to win the 20-gauge Championship. Mason Palidar took A1 with a 97. Bruce Gordon also shot a 97 to win B1, and Joe Madlinger iced C class with a 95. Another up-and-coming Junior sensation, C.J. Wojtaszek, broke a 93 to take D class.
The final event was the .410 bore, and two familiar gladiators, Jim Seiler and Ben Galioto, both shot 95s. The atmosphere was electric as both shooters made their way to the shoot-off field. After six stations, Ben crushed both targets, winning the .410 title and putting an exclamation point on a successful weekend of shooting. Robert Nowak won AA1 with a 93. Colonel Carl Wojtaszek also broke a 93 to win A1 and C.J. Wojtaszek was able to bear down and break a 93 to take C class. Ralph Novotny's 85 took D class.
With a 389, Ben Galioto was the HOA Champion, becoming the first New Jersey shooter to win every event at a New Jersey State Championship.
Ben was also on the computer all weekend and responsible for running a flawless glitch-free tournament. Thank you to our referees, Ed Amaty, Sophia Galioto and Mark Bricker, who were perfect on the button. Thank you to Howie Mann for providing us with beautiful State Shoot patches and David Collins who provided us with proof shells. Finally, a big thank you to Ernie Yeager, Al Raguseo, James Garrett and the entire Joint Base staff for making this shoot possible.
– Contributed by Ben Galioto