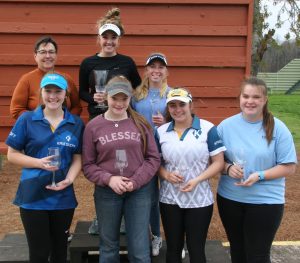 As 2021 has unfolded, ladies were eager to return to the skeet field, making for an increase in numbers for the 26th Ladies Charity Skeet Classic, hosted by South River Gun Club, in Covington, Georgia, March 19-21.  With all the challenges of the past year, distractions were welcomed, and busting clay targets on the field fit the bill perfectly!
Thirty-four ladies from 12 states attended. Eight of the ladies had never experienced the Ladies Charity previously, but each is now committed to future Ladies tournaments. The largest concurrent, Lady notwithstanding, was Junior, so the younger ladies were often found standing front and center on the podium at the end of each event.
The Ladies Novice Skeet Class was hosted by the National Sports Shooting Foundation's "First Shots" program, which provided ammunition and goodies for the 14 ladies who turned out to be our most energetic and enthusiastic participants. They were wonderful cheerleaders for each other and had a blast! The coaching staff was top-notch, led by Doug Thompson and joined by Austin Shepherd, Dan Degood and Cannon Petitjean, who shared their skills to ensure all our ladies were successful. A&H Catering provided a delightful lunch break for the ladies before they headed to the pistol range to punch some holes in paper with Mike Wasielewsi as their coach.
Steve Shackleford Memorial Doubles were held Friday afternoon. Corrie Cloninger (NC) took Champion unchallenged with 98 on her first visit to the LCSC. Two 97s hit the field to settle runner-up and third between Andrea Beyer (MS) and Mackinzee Swetman (TX). Beyer let a low-house slide on the first visit to station 4 and Swetman hit the pair to secure runner-up. Class champions were Alison Boyette (GA) A class, Josie Cloninger (NC) B, Lynn Cogdill (MT) C, and Becky Myers (VA) D.
The Jane and Doug Frazier 12-Gauge Event was held Saturday morning. One 98 by a local Junior Lady, Dani Zeigler (GA), won the champion title. Another two 98s, Swetman and Sue Huszai (OH), took to the field to determine the next titles. Huszai took advantage of a miss by Swetman to take runner-up, and Swetman took third. Class champions were Corrie Cloninger AA, Sydney Pittman (GA) A, Deanna Culpepper (GA) B, Sue Bogardus (FL) C, Melissa Petitjean (GA) D.
The Barbara Bozard Memorial 28-Gauge Event was held Saturday afternoon. Two perfect scores were posted by Alison Boyette (GA) and Corrie Cloninger, so they took to the field to settle the top position on the podium. Boyette cleaned two stations, and Cloninger missed her second target on station 4 to give Boyette the championship and runner-up for herself. Third place went to Jessica Simmerman (MS), unchallenged with 99. Class champions were Sue Huszai AA; Mackinzee Swetman A; Deanna Culpepper B; Susan Thompson (NC) C; Brayden Stokes (GA) D.
This year there were well over 200 items of all kinds on the tables for the raffle drawings — handcrafted goodies, shooting gear, household items, jewelry, clothing, manly and girly things, as well as entry fees to upcoming tournaments. Our most highly coveted raffle table item was a gorgeous Italian leather single gun case with shearling lining. The ladies were almost territorial about guarding the cup for tickets! As it turned out, a local club member who had purchased one card of tickets to support the shoot was the winner of the case.
Saturday night's guest speaker was Spenser Frye, Athens Area Habitat for Humanity Director, who also serves in the Georgia General Assembly as the state representative for Georgia House District 118. Frye shared with the ladies how COVID has impacted projects in Athens and shifted the focus to testing and reducing positive cases so volunteers can return to helping with Habitat projects. He noted that virtually all the things discussed passionately in House sessions are the same things that are impacted and improved upon when there is home ownership in the family. He said that Athens Area Habitat is partnering with the National Ready Mix Concrete Association and the Insulating Concrete Forms Manufacturers Association to build a concrete home as a cost-effective alternative since lumber prices have exploded.
Following our dinner by A&H Catering, almost 20 baskets, along with other items, were up for live auction. The auction was both entertaining and hugely successful in raising money. Our most original basket this year was "Responsible Adult Pampering Basket," filled with all things necessary to pamper oneself after a hard weekend of shooting and beating the fellas! Andrea Beyer, Katie Hunt and Jessica Simmerman were the creators of this basket. Our highest bid basket, created by Deanna Culpepper and Lisa Stroupe, was a wagon filled with all things that could be used or found while spending the day at the beach. One creative basket that was certainly the most original was a butterfly basket, complete with five chrysalis (butterflies in the making) that made the trip from Florida to the shoot and then returned to Florida to emerge as butterflies. For many of the ladies, it was a refresher biology class. The butterfly basket was brought and tended by Winnie Tucker, and even though she did not purchase her own basket, she continued to tend to the butterflies until they were released.
The Melissa Petitjean 20-Gauge Event was held Sunday morning. Corrie Cloninger posted the lone perfect score, securing the championship cleanly. Huszai posted the only 99 to snag runner-up honors sans challenge. Scores of 98 sent Mackinzee Swetman and Lynn Cogdill to the field for third honors.  Swetman let one slide on the first stop at station 4, and Cogdill smoked her pair, grabbing third. Class winners were Swetman AA, Zeigler A, Josie Cloninger B, Stokes C, and Marie Palmer (PA) D.
The John Haugh .410 Bore Event was held Sunday afternoon. The .410 is never predictable, and it's no exception at the Ladies Shoot. Once the scores were all entered, a lone 99 was posted by Boyette, making her Champion. A single 97 gave runner-up honors to Mackinzee Swetman. Mary DeFrancesco (CT) and Zeigler tied at 95 for third, so to the field they took. DeFrancesco was ready for the long haul, but it didn't take long; Zeigler dropped one on station 4's first pass, handing third to DeFrancesco and taking Class A Champion for herself. Other class winners were Corrie Cloninger AA, Josie Cloninger B, Susan Galloway (MS) C, and Peyton Strickland (GA) D.
Matthews Trenching Co. HOA finished with 388 for Mackinzee Swetman, followed by 386 and runner-up for Huszai. A three-way tie at 385 set up a shoot-off for third. Corrie Cloninger led off, dropping one on her first stop on station 4 and putting pressure on Boyette, who did exactly the same, further adding pressure for Zeigler, who powered through. In two stations, she earned the third step on the podium.  Class winners were Corrie Cloninger AA, Boyette A, Josie Cloninger B, Galloway C, and Stokes D.
One of the fun games held over the weekend was 25 skeet, 25 trap and 25 adventurous 5-stand targets and 10 pistol shots. Our Annie Oakley Champion was Melissa Petitjean, and the Frank Butler Champion was Cannon Petitjean. Thanks to Howell Traps for the loan of the traps to hold this fun event for our shooters. One of the local youth teams, Georgia Storm, even took advantage of the setup and used the course for their practice session.
The funds were still being tallied at press time. You can get the final results from our Ladies Charity Skeet Classic Facebook page or our webpage at www.ladiescharityshootclassic.org.
We want to offer our thanks to South River Gun Club and staff for allowing us to take over the club for the weekend, our sponsors who made it possible to hold our shoot and pay it forward with our donation to Habitat, Athens Area Habitat for Humanity for partnering with us, our referees who made sure our participants got the best targets possible, and our volunteers who helped with the many things that had to be done. Watch for the forthcoming dates for the 2022 event.
– Contributed by Tami Daniel-Means