2020 Ladies Charity Skeet Classic
The 2020 Ladies Charity Skeet Classic was not without challenges, starting with finding a date that didn't present too many conflicts. Little did we know, with the COVID-19 pandemic, our landing date of March 13-15 would ultimately be the best date scenario. At the front of the pandemic, travel restrictions, isolation and social distancing were just starting, so those factors did ultimately impact our numbers. Still, we were very fortunate to get to host our 25th Ladies Charity Skeet Classic, with activities being put on hold soon thereafter.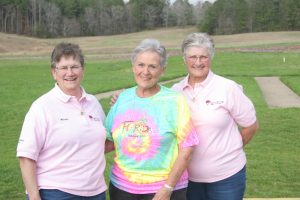 Ladies attended from nine states. Georgia had the most, seven attendees, with the event being held at South River Gun Club in Covington, Georgia. Ladies also attended from Florida, Mississippi, North Carolina, Virginia, West Virginia, Connecticut, Ohio and Tennessee.
This year our Ladies Learn to Shoot class hosted novice shooters who spent some time with two of our favorite coaches – Doug Thompson and John Hancock. The ladies returned to the clubhouse smiling after a morning on the skeet field. After a delicious lunch break, they ventured to the pistol range where Mike Wasielewsi coached them through great hits on their paper targets.
Doubles were held Friday afternoon. Marina Pakis (Tenn.) took Champion unchallenged with 94. Three scores of 93 meant a shoot-off for Andrea Beyer (Miss.), Katie Anderson (Ga.) and Mary DeFrancesco (Conn.). Beyer pounded four stations to take runner-up, Anderson smashed three stations to take third and DeFrancesco took class first.
Saturday morning was the 12-gauge event. Two 98s were the high score posted, so Susan Huszai (Ohio) and Anderson took to the field where Huszai missed on her second station and Anderson cleared station 4 to take Champion. Huszai was runner-up, and Jessica Simmerman (Miss.), with a 96, took third without a shoot-off.
Saturday afternoon was the 28-gauge event. Anderson posted her first 28-gauge 100 to secure Champion without a shoot-off. Four 98s headed out to settle the remaining steps on the podium – DeFrancesco, Pakis, Susan Galloway (Miss.) and Huszai. Huszai was the only lady to clean station 3, so she earned runner-up, while the other ladies continued on. Galloway outshot the others for third, while Pakis and DeFrancesco secured first in their respective classes.
Saturday there was an Annie Oakley event for the ladies with 25 skeet, 25 trap, 25 adventurous 5-stand and 10 pistol shots. The same event was offered for the men as a Frank Butler (Annie's husband) event. The Annie Oakley Champion was Melissa Petitjean (Ga.), and the Frank Butler Champion was Doug Thompson (N.C.).
When not shooting, the ladies found over 100 raffle items on the tables to drop a ticket in for drawing. The items were homemade as well as purchased, new and weathered, manly and girlie – truly something to be had for anyone! Some individuals came to the club exclusively to shop for goodies. The ticket raffles raised just under $3000 from the array of donated merchandise.
As 2020 was our 25th year, we wanted to recognize our Founding Mothers who attended this year's shoot and supported everyone with their shooting, love, recommendations, participation in the live auction and contagious fun attitude. Mary Beverly-Gamble, Carolyn Lause and Winnie Tucker attended from Florida, with Linda Tucker joining them. Barbara Bozard, another of our founding mothers, passed following last year's LCSC. We included Barbara's photo with this year's centerpiece decoration. We honored each mother with a wrist corsage and a round of applause for all they have done and enabled us to do.
Prior to dinner, we had a presentation from Mr. Charles Smith with Athens Area Habitat for Humanity, our charity for year 25. Charles shared about what our funds provide for Habitat. This chapter of Habitat has many activities going on in the community. We are proud to partner with them and are confident our dollars are being well spent, with benefits extending to future generations.
Following dinner, MaryAnn Worsham assisted with our Basket and Item Auction. Our attending ladies created amazing baskets, with a theme of their choice. This year's most popular basket was a firepit stocked with s'mores and snacks, as well as adult treats to enjoy during those cool nights with new warm accessories of gloves and hats, created by Hannah Goddard, Jessica Simmerman and Susan Galloway. The basket that raised the most money was a relaxation basket filled with assorted coffees and teas to enjoy, created by Andrea Beyer and Katie Hunt. The most highly coveted auction items this year were beautiful leather pouches, donated by Donny Weaver of Tarheel Leathercraft and the gorgeous handmade quilt with an appropriate "house" theme, donated by Susan Huszai. We were able to raise over $3000. Eric and Evan Heit were invaluable during the auction, assisting with displaying the items. The young men assisted with various tasks throughout the weekend as part of the BETA Club Volunteer Hours. We were delighted to have them.
Sunday morning was the 20-gauge event. Huszai let one target get away, to post a 99 for Champion, unchallenged. Beyer and Karen Ruddle (W.Va.) posted 98s and headed to the field to settle titles. Ruddle let one target slide on the station 4, securing third and giving Beyer runner-up.
The .410-bore event was held Sunday afternoon. The high score was 97, so Huszai and Anderson again found themselves on the field to shoot off. Huszai missed on her second pair, taking runner-up as Anderson closed the door with a clean station 4, awarding her Champion. The next high score was 95, which led Beyer and DeFrancesco back to the shoot-off field. Beyer's doubles game is strong; she led off clean through two stations, grabbing third, while DeFrancesco missed on station 4, taking class first.
Sunday sporting allowed anyone interested to shoot a round of 5-stand. Lady Champion was Jessica Simmerman and Man Champion was Eric Heit.
High Overall was clean for all places (a shoot manager's dream, as the business of the wind-down is usually high). Huszai was crowned Champion with 392, Anderson awarded runner-up with 387 and DeFrancesco placed third with 384.
The funds were still being tallied at this writing, and the final donation to Habitat will be shared on Facebook. Follow us at Ladies Charity Skeet Classic or our website at ladiescharityshootclassic.org.
We want to offer a huge thank you to South River Gun Club and staff for allowing us to take over the club for the weekend, our many generous sponsors (see claytargetnation.com for the complete list) who made it possible to hold our shoot and pay it forward with our donation to Habitat, Athens Area Habitat for Humanity for agreeing to partner with us along the journey, our volunteers who helped with all the things that needed to be done, and our referees who made sure our ladies got the best targets possible. One final thank you to my family (Al and Hannah) for really digging into the trenches to help the Ladies Charity be all that it can be. The 2021 date will be forthcoming.
Our faithful and generous sponsors:
Ladies Learn to Shoot – "First Shots" by National Sports Shooting Foundation
Friends of LCSC – Doubles and 20 Gauge
Jane & Doug Frazier – 12 Gauge
Barbara Bozard Memorial – 28 Gauge
Jim McFadden – .410 Bore
Matthews Trenching Co., Inc. – HOA
Cross Creek Skeet Association – Friday lunch
Hannah Goddard – Saturday lunch
John Haugh – Sunday lunch
Zone 4 Skeet Association – Friday social hour
Jim Meucci – Friday cocktail party
Georgia State Skeet Association – Saturday dinner
Jim Stumpf – Annie Oakley event
David Morgan Memorial – Frank Butler event
Howell Traps – 5-stand
Cakes – Queen B's Cakes 'n Bakes
MaryAnn Worsham – Red Barn Doors Auctions
Greg Huszai – Photographer to the Stars
Krieghoff International, Inc.
Giambrone Shooting Clinics
Tarheel Leathercrafts
NSSA-NSCA-NSC
Remington Arms Co.
Pro-Shot Products
Precision Medals
Phillips
Briley Manufacturing
Kolar Arms
Todd Bender/Performance Systems International
MidwayUSA
White Flyer
Arnold's (Snap-on) Tools
Lavish Lips by Debbie Qualls
Bright Sparks UBAM VIP Group
Crystal's Chic Boutique (Thirty-One)
Numerous anonymous donations of merchandise and dollars by individuals
– Contributed by Tami Daniel-Means