The crowning of the 2019 Indiana State Skeet Champion, Owen Knight, was the end of a shooting season of many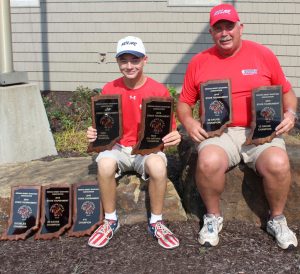 firsts for him. The skeet shooting season began with the announcement that Owen made the 2019 NSSA Sub-Junior All-American First Team. In May, when the shooting season was just getting underway for most of us in the Midwest, Owen traveled to the Detroit Gun Club in Walled Lake, Michigan, to shoot the Lou Raden Open, where he posted his first 100 straight in the 12-gauge event and won his first High Over All title. The following weekend, he entered the 3-I skeet championships held at Peoria Trap and Skeet Club in Peoria, Illinois. Another first was posted as he shot his first 100 straight in the doubles event.
By mid-summer, Owen had won many individual gun championships and HOA championships. He then traveled to Fort Bragg, North Carolina, home to the 2019 Junior World Skeet Championships, and accomplished another first: He shot his first 100 straight in the .410 event, earning him the Junior World .410 championship and contributing to his High Over All runner-up finish.
This achievement, as well as being the 2019 Indiana State Championship, contributed to a year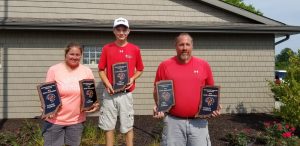 that included 16 100 straights, eight High Over All championships, and 14 event championships for Owen.
– Contributed by Mike Kick