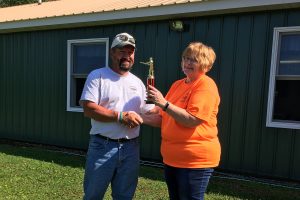 The 7th annual Boyd Memorial Cancer Shoot was held the weekend of July 13 at the Cooperstown Sportsmen's Club in Cooperstown, New York. On this exceptionally warm day, 15 registered skeet shooters shot in both 12-gauge and 20-gauge events. Shooter Kerry Richardson of Mexico, New York, shot a 100 straight in the 12-gauge, and Robert Mosca of Wynantskill, New York, achieved his first 25 straight in the 20-gauge event. At the end of the day, the High Over All trophy, for the combined two guns, was presented to shooter Kerry Henderson on his first time at the fundraising event. We are glad he had such a good day.
The Cancer Memorial Shoot is a fundraiser for cancer research, with funds donated to the American Cancer Society Relay for Life in Otsego County, New York. It is a two-day event with the second day being open shooting for both skeet and trap. Attendees enjoyed warm weather, good company, lunch, raffles and a bake sale. It is always a fun time. This year, one registered shooter, Alan Clark, Sr., traveled from Houston, Texas, to participate.
Thanks to members of the Cooperstown Sportsmen's Association, led by president Bob Navratil, for their commitment to the success of this important event. Thanks as well to the New York State Skeet Association for providing continued support. Our hope is that a cure will be found for this devastating disease so no more families go through the pain and heartbreak of losing a loved one.
This year's shoot raised over $7000, bringing the total to over $38,000 that has been donated to the American Cancer Society since 2013. The success of this fundraising event could not have been possible if not for the efforts and leadership of our chairperson, Joyce Boyd. We thank Joyce for her dedication and hard work that she has put into this event.
– Contributed by Ted Kantorowski