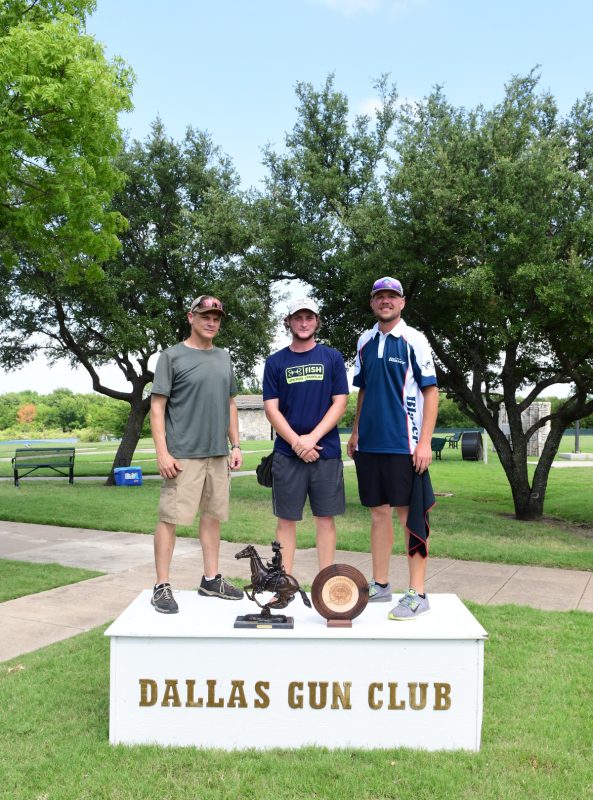 The 2019 Texas Skeet Championships, held at Dallas Gun Club on June 20-23, was one for the books. Gun giveaways, raffle prizes and a superb atmosphere made for a spectacular weekend. This extraordinary event was only possible due to the hard work and generosity of many corporate and individual sponsorships.
Friday's schedule included the 28-gauge event and half of the 20-gauge event, with shoot-offs taking place on Saturday, as the TSSA Hall of Fame Banquet was reserved as the showcase for Friday evening. Bailey Glenewinkel was honored as the 2019 TSSA Hall of Fame Inductee for her shooting accolades, while Robert Paxton was honored with a TSSA Lifetime Achievement Award for his outstanding shooting career. Family, friends, and shooting legends attended to witness the special evening for the two deserving honorees. In addition to celebrating Bailey's and Robert's accomplishments, many prizes were given away, including the raffle drawing in which Armour Strunk was the lucky winner of 100 flats of shells, thanks to Remington and Crow Shooting Supply.
Saturday was a full day of shooting with the completion of the 20- and 12-gauge events, along with the shoot-offs for the 28, 20 and 12 gauges. Jason Foshea was the hot shooter Saturday, winning both the 28- and 20-gauge championships in back-to-back shoot-offs. A big "thank you" to Pacific Sporting Arms and Lonesome Charlie's for sponsoring these two events. Finishing next to Foshea were Josh Poole, runner-up, and John Barnes, third, in the 28 gauge and Riley Chaddock and John Barnes in the 20 gauge. The top lady in the 28 gauge was last year's HOA Lady Champion, Kaleigh Lawson, followed by Taylor Nicosia, Lady runner-up and Alexia Shaw, Lady third. Mackinzee Swetman, Lady Champion; Lauren Burge, Lady runner-up; and Melissa Barringer, Lady third, took the top spots in the 20 gauge.
While the shoot-offs were ongoing, competitors and guests enjoyed scrumptious hamburgers and ice-cold beer. Up-and-coming shooter, Bradley Pang, won his first Texas State title by outshooting seven others with perfect scores and securing the Greater Houston Sports Club 12-Gauge Championship. Riley Chaddock had to settle for another second-place finish while Hunter Edmunds earned third place. Lindsay Plesko crushed 100 to take top Lady honors ahead of the Barringers, Rachel (Lady runner-up) and Melissa (Lady third).
With the conclusion of three guns in the books, the .410 bore remained for Sunday. S&B Plumbing was the sponsor of the .410 Bore event, and perfect scores were turned in by Carter Wehrheim and Cody Sergeant. Carter earned the championship over Cody, runner-up, while Jason Foshea secured third place after a shoot-off of 99s. These three competitors also squared off for the prestigious High Overall Championship, sponsored by the one and only Robert Paxton and Paxton Arms. History would repeat itself as Carter Wehrheim, defending 2018 Texas State Champion, would again secure the crown of Texas State Champion. Sergeant and Foshea finished in runner-up and third spots, respectively, to finalize an outstanding weekend of shooting.
Melissa Barringer finished the weekend on a strong note, capturing the Lady .410 and HOA titles. Mackinzee Swetman and Alexia Shaw made their way to the podium for the silver and bronze places in the .410 event. Shaw also captured third in the HOA race, with Lindsay Plesko taking Lady runner-up in the HOA race. HOA class and concurrent champions included Riley Chaddock (AAA), Hunter Edmunds (AA), Chuck Rister (A), Lauren Lee (B), Don Miller (C), David Roberts (D), Cade Holland (E, SJ), Kendall Jaroszewski (JR), Matthew Roberson (CL), Carter Wehrheim (TS), Jason Foshea (SU, MV), Patrick Byrne (SS), Van Boerner (SR, RM), Doug Coulter (VT), David Cudia (SV), Melissa Barringer (LY) and Timothy Riordan (ML).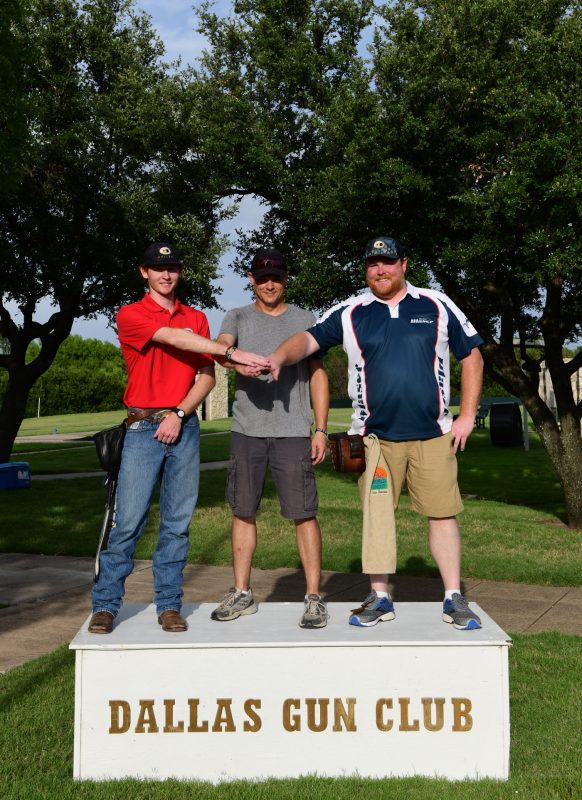 The success of the 2019 Texas State Championship was only possible due to the hard work of the TSSA Board and Shoot Committee, the excellent vendors, and generous sponsors, individual and corporate, and the Dallas Gun Club. Thank you all for your hard work and support for making the 2019 Texas Skeet Championship one for the ages.
TSSA would also like to recognize the following individuals: Brandon Cade, Pat Byrne, Cindy DiMaggio, Kaleigh Lawson, Armour Strunk, Cody Sergeant, Josh Poole, Lindsay Plesko, Bailey Glenewinkel, Jason Ward, Troy Behrens, William Edmunds, Tommy Mays, Dirk Proffer, Woody, Anderson, Lance Phillips, John and Cynthia Castillo, and Charlie Beard for their generosity and support to help increase the excitement and participation in the Texas Skeet Championships. Many corporate sponsors also assisted in the event, including Jackson Oil Co., Zoli, TruGlo, Greater Houston Sports Club, Crow Shooting Supply, Remington Arms, The Thompson Group at Classic Chevrolet, Beretta, duPont/Krieghoff, CZ-USA, Clay Shooters Supply, Fossil Pointe Sporting Grounds, Dawn Grant, Highlands Residential Mortgage, Shurley Brothers, Paxton Arms, 3on8 Reloading Supplies and Equipment, Krieghoff, Perazzi, Briley, Big Guy's Shooting Supplies, Corpus Christi Gun Club, S&B Plumbing, B&E Resources, Negrini, Rio, Myskeet.com, Ocean Point, Rittman Capital Management, Moore Supply Co., On Target, Sophia Michelle, Optima Wealth Management, FGA, Nu Skin, Briggs Freeman, Don Rackley, TX Whiskey, Americase, Muller, African Game Industries Inc., Sweeney Lumber, JPG, Baseline Analysis Corporation, Yard Birds Inc., and White Flyer. Thank you to all of our tremendous sponsors for helping TSSA host a great shoot.
We look forward to seeing you all next year at the Greater Houston Sports Club. It will be a must-attend event!
– Contributed by Nathan Boyd