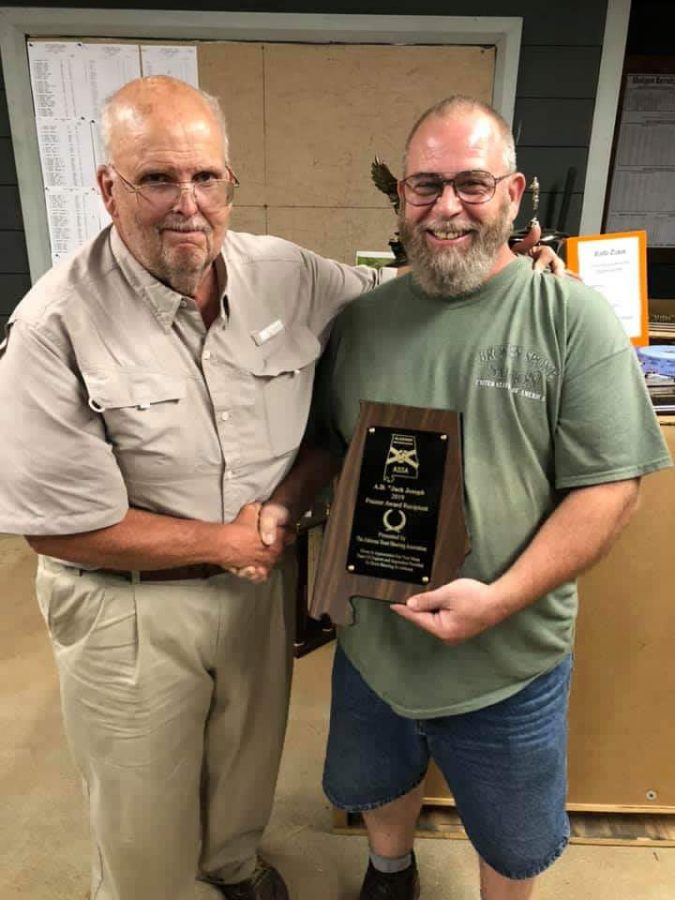 The Red Eagle Skeet and Trap Club in Childersburg, Alabama served as the host for this year's Alabama State Skeet Championships on May 31-June 2. Red Eagle's members and volunteers worked diligently to spruce up the fields in preparation for this year's event, including the installation of new Lincoln traps on all the fields. These improvements were very much appreciated by our shooters who turned out in great numbers to support their association.
Doubles were shot under beautiful blue skies, with heat, moderate breezes and some humidity. The first flight began at 1 p.m., and by the time shooting was completed, 49 competitors had survived their first dose of Alabama weather for the weekend. A three-way tie for champion was shot off, with David Thompson emerging victorious.
For 12 gauge, 66 shooters took the field under even hotter, breezier and more humid conditions. Three shooters racked up perfect scores, and William Zupko became our newest first-time State Champion. He elected to receive a custom range bag from Lonesome Charlie's as his reward for his fine shooting.
The 20-gauge event had 61 shooters, and once again, three nailed all 100 targets, with Andy Pounders prevailing in the shoot-off. Congratulations to our many-time State Champion for his repeat win. Clay Goddin of Headland, Alabama, shot his first-ever 100 straight and finished as runner-up in the 20-gauge event.
After the shoot-offs were completed, dinner and the state business meeting followed, with awards presented for those events completed at this point. State teams were recognized, and each honoree was presented with a custom leather shell bag.
Roy Jorgensen, president of ASSA, presented the Frazier Award, which is given to an Alabama resident in recognition of their support and contribution to the sport of skeet within the state. This year's award was presented posthumously to A.D. "Jack" Joseph, whom we lost earlier this year. The plaque was accepted by his son, Mark, who is also a competitive shooter. "Mr. Jack," as he was affectionately known, was a member of America's Greatest Generation, a veteran of WWII, Korea and Vietnam. He was honored in recognition of his service as a career Army Air Corps (USAF) pilot, as an educator, and for his love of the sport.
This year's Hall of Fame Inductee, Larry Krutsinger, was introduced. ASSA president Roy Jorgensen was honored to introduce Larry and elaborate on his career achievements during the past 35 years, including many All-American teams, All-State teams, state championships and other accomplishments.
Prior to the 28-gauge competition on Sunday morning, a special multi-gun salute was made to the memory of Mr. Jack. Afterwards, 53 shooters took to the field of battle; four shooters managed a perfect score under bright blue skies, moderate breezes and humid conditions. Ties were resolved at the end of the day to declare Adam McNutt champion, Steve Meadows runner-up, Andy Pounders third, and David Thompson AA1.
Fifty-one shooters recognized the .410 bore as their last opportunity to be a hero. A lone 97 shot under typical Alabama afternoon conditions took the championship for Robert "Rooster" Killian. Runner-up was tied between Layne Merritt and Philip Spears at 96. Resolution was quick, with Merritt smashing his pair on station 4 and Spears letting one slide, to crown Merritt runner-up and Spears third.
The HOA event was clean for our new young shooting phenom Adam McNutt as champion, Andy Pounders (our perennial champion) as runner-up and Layne Merritt as third. Sub-Junior Champion in HOA and all five events was Nathan Hughes; Lady Champion was Charlene Bertus in all events throughout the weekend; and Senior Veteran Champion was Frank Proietty.
The Red Eagle Skeet and Trap Club did a wonderful job of playing host for this year's event. Their recently renovated fields and facilities served us well. We look forward to returning for many more competitions at this club.
Next year's State Championship will be held May 29 – 31, 2020 at the Fort Rucker Skeet Club. Make plans to join us in Alabama!
– Contributed by Roy Jorgensen