Shooters from New York, Massachusetts, New Hampshire, Pennsylvania, Ohio, Florida and Canada arrived at Rochester-Brooks Gun Club two weeks after the Zone 1 Championships to contest the New York State Skeet Championships.
Friday's action kicked off with the Referee Championship, with Mark Snyder defeating Mark Holthouse in a tie of 97s. The referees swapped guns for clipboards for the Doubles event on Friday afternoon. Two perfect scores later, Craig Parsons defeated Ian Smingler on the first station of the shoot-off for champion and runner-up honors, respectively. In the shoot-off for third between Mat Kelley and W.C. Parks, Mat ascended to the podium while Charlie took AA and the non-resident championship.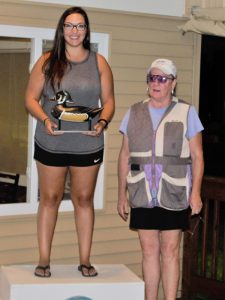 Class winners in Doubles included Peter Bogdon, Victoria Ferchaw, Doug Goodman and John Yackiw, with the Junior championship won by Hunter Dickerman and the Ladies podium held by Ferchaw, Victoria Barner and Catherine Forbush, in order.
Shooters arriving on Saturday morning were happy to see clear skies and slight wind. The targets were great, and the scoreboard lit up with 100s and 99s, with a 98 down into D class. Nine perfect scores took to the shoot-off field; Ian Smingler finished in the runner-up spot, and Craig Parsons won his second title of the weekend.
George Lehr and Dess Ivanov continued to shoot for third and class AA, with Ivanov reaching the podium. Other class winners included W.C. Parks, who also captured another non-resident champion medal, Michael Asel, Dawn Smart, Scott MacIntosh and Canada's Don Legere. Matthew Lenehan took the Junior award, with Bryan Bale taking third. Cindy Johnson's 98 won the Ladies championship outright.
The 20-gauge championship was also contested Saturday afternoon, and again, there were nine perfect scores. In four stations, Scott Sobiegray won over runner-up Michael Ferchaw and third Colin Smingler. Class champions included Bernard Lenehan, Richard Ayers, Fritz Ochab, Scott MacIntosh and Alan Maenza, with W.C. Parks winning another non-resident champion pin. Hunter Dickerman took champion in the Junior group, and Catherine Forbush took the Ladies honors.
Saturday evening's last shoot-off is always the 12-gauge 5-man team handicap. Every team and shooter participates, with handicaps based on the shooter's class, total team score miss and out. Congratulations to the winners of a beautiful belt buckle: Bruce Raymond, Matthew Lenehan, Bernard Lenehan, Michael Asel and Charles Lombardo.
Sunday afternoon's HOA race started out as a tie between Craig Parsons and Mat Kelley with 298s, but at the conclusion of the .410 event, four shooters were called to shoot off 395s. Dan Morris prevailed for Open HOA champ and non-resident champ titles. Parsons and Ivanov went two more stations before Craig won yet another NY resident HOA championship.
In the 28-gauge event, five perfect shooters were summoned to shoot-offs. Mat Kelley took the top step and Michael Cerce runner-up. Brad McRae finished third and was non-resident champ, while Dana Driscoll took AA1 and NY third. Other class winners included Richard Ayers, Donna Fusco (who also took the Ladies title), Charles Lombardo and Don Legere. Hunter Dickerman won Junior honors.
The wind increased in the afternoon, and the lone 99 in the .410, for the top step of the podium outright, was scored by Canada's Dan Morris, with a shoot-off of 98s for NY champion, runner-up and third. In that shoot-off, seven stations into the box, Aaron Benton let a low 5 slip by, totally disappointed — until Michael Cerce missed the pair! Aaron won the NY State resident title, and Dess Ivanov finished third.
Class winners in the .410 also included Reg Hooper, Donna Fusco (also the Ladies champion), John Mutchler and Andy Nolan. Hunter Dickerman won the Junior concurrent.
As the remaining HOA ties were settled, class winners included W.C. Parks, Donna Fusco, Scott MacIntosh, Mario Mastrangelo and Don Legere. Hunter Dickerman won Junior HOA champion, and Donna Fusco took the top step of the Ladies podium. Victoria Barner and Catherine Forbush shot off for runner-up and third, finishing in that order.
The last call to the shoot-off field was for the Champ of Champs event. Three perfect scores were recorded by Michael Cerce, George Lehr and Dess Ivanov, and it was over in a station. Lehr hit the pair for what he says gives him a span from his first NY title in 1970 to 2018 for his most recent. Cerce and Ivanov took the runner-up and third positions, respectively.
Rochester-Brooks was pleased to host both the Zone I and NY State championships this summer, and we're looking forward to bringing the U.S. Open back to the great Northeast in 2019.
– Contributed by Andrea Graham Lehr
Click on any photo to enlarge it.