Who does't want a "Restart" once in a while? And the beginning of each year, New Year's, just begs for one. Thus it was decided that's what everyone needed at Kern County Gun Club in January. Organizers knew it was touch and go on the weather when they set the date. But Saint Peter stepped up, and in keeping with California weather, the conditions were fantastic.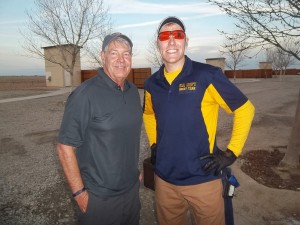 The format? A one-day, two-gun tournament comprised of 12 and 20 gauges, along with an HOA.
Generous sponsors have added nice loot for the winners as well: flats of shells for gun and class champions, engraved crystal trophies for HOA winners, and special awards for Lady and Junior champions.
Cliff Bolt has done a fantastic job promoting the Kern County events, and the Restart Open was no exception. The maximum capacity of 50 shooters was filled. Shooters from as far away as Montana and Minnesota were in attendance. In addition to local Bakersfield area shooters, Southern California was also well represented. Everyone did their best to be tuned up and ready for competition. A nice group of shooters convened at the club on Friday for last-minute practice. Good idea, as it turned out; you would need to shoot well to win.
Led by Jon Cunningham, the club was in top-notch form. Dean, Jeff, and Jeffrey Rouell, Jr. put a shine on the property. Not a thread was out of place. The referees were spot on and cheery. If you haven't experienced the Kern County hospitality, you owe yourself a visit to the club. You won't be disappointed.
Squadding was organized by Rick Douglass, and Hall of Famer Hal Stewart had the computers teed up well in advance. A handful of folks were registered on Friday. Then beginning at 7:00 a.m. on Saturday, the lovely and gracious Tina Stephens took the helm, registering shooters and doing the administrative tasks. Alongside Tina was trainee Misty, who turned out to be a quick study. The volunteers at skeet shoots are the backbone of the sport. Be sure to say "thank you" to those tireless workers at every event.
The 12 gauge commenced with the first flight at 8:30. There were plenty of good scores but no hundie. The door was still open when the second rotation took the fields at 10:00. The stars lined up for one competitor, Rob McCormick, breaking his first-ever 100 straight. Rob is a SoCal celebrity, one of the generous sponsors of the sport. Chili Rob as he is known, has been at it for a few years, nipping at the straight a few times. Congratulations Rob, well deserved. And the score held up, the sole perfect of the gauge.
There was plenty of good shooting: two 99s, a 98, and seven 97s fought for the scraps. In the end it was McCormick at gun champ, Cliff Bolt runner-up, Ty Younts AA1, Mike Archer A1, Harold Jeffers B1, Hal Stewart C1, and Ron Schaefer D1. Sean Collier was the Junior champ, and Kathryn Friesen was Lady champ. One gun down, one to go.
Did I mention that lunch was included in the program? And what a lunch it was. The West Coast famous Buoni BBQ was on hand — BBQ pork loin, BBQ beans, salad and sides. The only downside was the food coma following the feast. Thank you to Frank, Lori, and Dominic for feeding us. What a treat.
Immediately following lunch, the first rotation of 20 gauge shooters took the field. Conditions were still great and high scores followed. This time it was another SoCal shooter who stepped up. Hall of Famer and National Director Keith Phelps cleared the field with his 100 straight. He was followed by three 99s and three 98s. After shoot-offs, it ended up Phelps as gun champ, Keith Key runner-up, Buoni AA1, local shooter Tracy Edwards A1, Chili Rob McCormick B1, Ron Schaefer C1, and Joe Kerchinski D1. Again, Sean Collier was the Junior champ and Kathryn Friesen was Lady champ.
Drama was developing on the HOA front. Three shooters were in the hunt, followed by a couple who needed help from the leaders. Dominic Buoni has been whipping just about everyone's tails, so he sort of had a bullseye on his back. McCormick was only down two targets but finished early, having to wait on results. Younts was also right there with the other two. It was really anyone's game. When the dust settled, McCormick's 198 captured the HOA title. Buoni and Younts shot off their 197s for runner-up, with Younts prevailing. Buoni took AA1, followed by Keith Key A1, Phelps B1, Shaefer C1, and Kerchinski D1.
Guess who the Junior and Lady Champs were? You got it, Collier and Friesen. In addition to the perfect scores, there were several personal bests during the day. Congratulations and great shooting, everyone.
The one-day tournaments have been well received at Kern County Gun Club. Bolt and Cunningham have been instrumental in promoting and supporting the skeet program. The results are obvious. After all, people vote with their feet. At this event alone, five new NSSA members were signed up. It's satisfying to have a full shoot and see smiling faces. Thank you, guys. Please keep up the good work.
— Contributed by Chris Baker