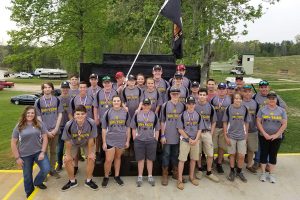 South River Gun Club in Covington, Georgia, hosted the South River Open on April 14-15, 2018. Saturday was sunny, yet a bit breezy – pleasant enough weather for the 12-gauge event, with 55 youth and 25 adults, for a total of 80 shooters participating.
High score posted was 99 by Noah Adair (Triple-Sub/Collegiate), Joe Dickson (Senior/Retired Military) and Thomas Miles (Sub-Junior). Miles missed on station 4, first lap, earning third honors (Sub-Junior champion), while Adair pushed Dickson until he missed his second target on station 4 on the third pass, so Dickson was runner-up (Senior and Retired Military champion), and Adair won 12-gauge event champion (Triple-Sub and Collegiate champion). Kadie Anderson took Sub-Junior runner-up (93), and Ashton Curry won Sub-Junior third (88). Alison Boyette took Junior champion over Graham Hasty in a quick shoot-off of 98s. 97s shot off for third and 1-1 points, with Avery Lawski over William Whitten. Lady honors were clean as Boyette (98), Anderson (93), and Addison Samson (82) stood on the winners' podium. Anderson also snagged Lady Sub-Junior champion, while Boyette cinched Lady Junior Champion.
As a fun aside, the youth created 3-man teams in Sub-Junior and Junior. Sub-Junior winning teams were: champion – Harlan Brooks, Colton Patterson and Evan Page with 268/300; runner-up – Clay Weaver, Garrett Wood and Ashton Curry with 264/300; third – Maddox Diehl, Brandon Beaudoin and Elizabeth Whitten with 220/300.
Junior winning teams were: champion – Avery Lawski, Alison Boyette and Daniel Ingram, 280/300; runner-up – Graham Hasty, Izaih Holland and Logan Hunsinger, 273/300; third – Parker Diehl, Will Whitten and Blake Everson with 272/300. The youth all enjoyed getting to stand on South River's new podium, designed and built by South River's maintenance crew, steered by Josh Henderson. Alli Grey Everson won a Beretta Tervis Cup in a random drawing. Anderson broke her first 25 in the 12-gauge event.
The 20-gauge event was sandwiched in between the morning and afternoon 12-gauge shooters, with 37 participating. Two perfect scores were posted, Avery Lawski (Junior) and Cannon Petitjean (Triple-Sub), with his first perfect 20-gauge score. During their shoot-off, each missed on station 3, then got serious for 2 ½ trips around the pads before Petitjean let a low 4 slip by, grabbing 20-gauge runner-up (Triple-Sub champion), and Lawski taking 20-gauge champion. Third was up for grabs with Adair (Triple-Sub/Collegiate), Dickson (Senior/Retired Military) and Boyette (Junior/Lady) headed onto the field. Boyette dropped one on the first lap across the field, while Adair and Dickson pushed each other around the stations four times before Adair dropped a high 4, giving Dickson the small gap he needed to grab 20-gauge third (Senior/Retired Military champion. Sub-Junior champion honors went to Miles (98), Anderson (95) and Clay Weaver (78). Daniel Ingram took Junior third (93) over Luke Weaver in a quick shoot-off. Peyton Strickland took Lady third honors. Kadie Anderson broke her first 50 in the 20-gauge event. The field was full as friends and squad mates shot her hat that evening to celebrate her day's milestones.
Sunday's weather was downright miserable; however, the wind was no longer much of an issue. Raingear was put to the test – some failed miserably and got tossed in the trash bin. The temperatures were cooler and with the steady rain, it was a challenge to stay warm. Twenty-two hearty souls were tough and stood in the rain, posting quite a few strong scores despite the weather. In the 28-gauge event, Lawski and Jay Tompkins posted straights, so they headed to the field for braggin' rights. Lawski let a high 5 slip by on the first go-around, and Tompkins took advantage, smacking his pair to claim 28-gauge champion, and Lawski took runner-up and Junior champ. Adair and Boyette took to the field to shoot off their 99s for third honors. Adair hit everything, securing third (Collegiate and Triple-Sub champion). Boyette took class honors (Junior runner-up and Lady champion) again. Miles and Anderson (Lady runner-up) took Sub-Junior titles; Ingram took Junior third; Strickland took Lady third.
In typical fashion, final results in HOA depended on .410. One lone 99 was posted by Petitjean to snare .410 Bore Champion (Triple-Sub champion) unchallenged, while celebrating another personal best. Adair (Collegiate/Triple-Sub) and Matthew Long (Triple-Sub) both posted 97s, so they were in contention for runner-up and third. Matthew's 97 was also a personal best; he missed early and Adair closed the door to take runner-up, and Long took third in the event (Triple-Sub runner-up). Sub-Junior went to Miles and Anderson; Junior went to Lawski (93), Boyette (92) and Ingram. Lady winners were Boyette, Anderson and Strickland.
HOA Champion was well deserved for Petitjean, with a 395, one final personal best for the weekend. Runner-up (Triple-Sub runner-up, Collegiate champion) went to Adair with a 394. Adair is quickly coming to the end of his collegiate career, with graduation ceremony usurping this year's Krieghoff Masters, as he claimed champion honors in all collegiate events. Third was up for grabs at 390 for Dickson, squad mate and mentor of Lawski, who broke half, thus establishing third for Dickson (Retired Military champion and Senior champion). Podium opened for the youth again for Sub-Junior Miles and Anderson; Junior Lawski, Boyette and Ingram; and Lady Boyette, Anderson and Strickland.
South River Gun Club used a new-to-skeet online squadding program, PreSquad (presquad.com). It's been used successfully in the trap world for several years now. The benefits are instant confirmation of rotation and ability to choose squad mates. Beta testing went well and will be used for the remainder of the shoots at South River Gun Club this season and the upcoming Georgia State Skeet Championship. Be sure and check out the presquadding program; perhaps it will be something your own club could use.
Thanks to our ever-faithful referees: John Hancock, Myrl Miller, David DePreta, Deborah Rentz and Norma Rickmond, who never fail to go above and beyond the call of duty at every tournament. The next tournament offered at South River Gun Club will be the Georgia State Skeet Championships, June 22-24, 2018. It is an open shoot, so if you are in the area, make plans to join us for warm temperatures, quality targets, delicious food, great prizes for residents and quite a few of those highly coveted All American points.
– Contributed by Tami Daniel-Means
Click on any photo to enlarge it.