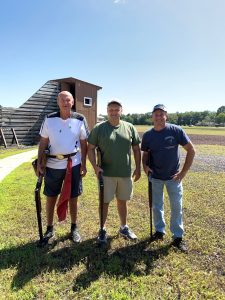 For 2019, the New Jersey State Shoot rotated back to Pine Belt Sportsman's Club. As promised, Russell Paul had the machines tuned and targets flying on a string, while his good friend Scotty prepped the facility for our State Shoot. Shooters were treated to some of the best targets in the Northeast and terrific referees. This year, our State Champions won beautiful duck decoys, each one being a different species. The tournament started on Friday, July 26 with the doubles event, and Ben Galioto's 94 earned him his second career doubles championship and a beautiful pintail duck. John Zema's 93 iced A1, Russell Paul won B1, Tommy Surman won C1 and Jimmy Luts took D1.
The weather on Saturday morning was literally perfect for the 12-gauge event. John Zema and Florham Park's Dr. Robert Vrablik both shot 99s. After an intense but short shoot-off, Zema won his eighth state championship and a gorgeous mallard decoy. More importantly, John's 12-gauge title earned him an induction into the prestigious Grand Slam fraternity by winning at least one state championship in every event. Only four other shooters have achieved this goal in New Jersey skeet history: Gorge DeSanto, Joe Luciano, Russell Paul and Ben Galioto. The 12-gauge class winners were Ben Galioto (AA), Ricky "Bags" Bagni (A), Mike Costello (C), Bruce Gordon (D) and Robert Madosky (E).
Saturday afternoon's weather remained perfect for the 28-gauge, and both Leo Nebbia and Ben Galioto made their way to the shoot-off field after breaking solid 98s. A beautiful canvasback decoy made Ben Galioto bear down and win his third 28-gauge state title. Class winners were Robert Vrablik (B), Jim Luts (C), Tommy Surman (D).
During Saturday evening's social hour, NJSSA hosted a delicious catered dinner with dessert for shooters and staff.
The weather got a little warmer on Sunday, but this did not deter Paul Billings from shooting a hard-earned 98 and winning his sixth state title. Paul also won a stunning American wigeon decoy. Class winners were Ben Galioto (AA), Joe Hall (A), Bruce Gordon (B), Tony Viel (C) and Robert Madosky (D).
Coming down the home stretch and heading into the .410 event, both John Zema and Ben Galioto were locked in a dead heat. Ben Galioto shot a 95 in the little gun, winning his third career .410 championship and a lovely bufflehead decoy. John Zema took A1, Leo Nebbia B1, Bruce Gordon C1 and Robert Madosky D1.
This year, the HOA title and a beautiful wood duck decoy went to Ben Galioto with a 387. This is Ben's 16th career State Championship. It's also Ben's fourth consecutive HOA championship, setting a New Jersey state record. John Zema's 386 won HOA runner-up and a lovely wood duck decoy. Class winners were Leo Nebbia (A), Robert Vrablik (B), Michael Costello (C), Howie Mann (C) and Robert Madosky (D).
Thank you to all the officers whose hard work throughout the year made this state shoot possible and to others who contributed to the shoot's success: Ed Amaty, who pulled out of the shoot to referee the entire weekend; our other two referees, Mark Bricker and Sophia Galioto, who did a superb job; NSSA and NJSSA Hall of Famer Holly Paul, who stepped up and ran our shoot; Robert Madosky, who provided us with some very cool shooting shirts; and to our membership for coming and participating in this year's New Jersey State Championship.
– Contributed by Ben Galioto