April 12 dawned with an intermittent shower, but the forecast was for thunderstorms in the afternoon. Not the auspicious­­ start that match director Wendy Smith had hoped for on the first NSSA registered match being held by Rivanna Rifle and Pistol Club. The match format allowed the shooters to enter one, two, three or even four guns, and shoot them in any order. Consequently, each squad had a mix of 12-gauge, 20-gauge, 28-gauge, and .410 shooters. The hope was weather on the next day might be better, and some considered that when selecting what gun to shoot.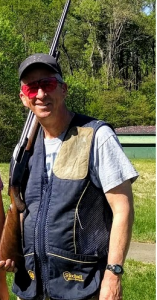 At the Friday 10:00 a.m. start, the rain had stopped only to start a constant drizzle during the third box. That seemed the pattern for the day. You might shoot one or two rounds relatively dry, but rain always entered before you were through. And it was in one of these drizzles that Charlie Souter shot a perfect 100 using his 20-gauge Model 12. Some noted the 99 hard hits and the one "golden BB," but they all looked like Xs across the scoresheet.
The lunch provided to all contestants was authentic New Orleans jambalaya, prepared by Bob and Priscilla King, who hail from the Big Easy. The bill of fare was very well received, with small chance of leftovers.
Saturday's competition was somewhat less rainy, but not completely dry. Again, the competition had shooters shooting all different gauges, so the match final tallies would have to wait until the end of the day. All told, we had 23 shooters shooting 41 guns. Competitors came from as far as Richmond and Fairfax and Gordonsville to shoot.
When the smoke had cleared, gun winners were listed for all except the 28 gauge. Justin Johnson from Richmond and a Liberty University shooter took the 12 gauge with a 97. Charlie Thompson, a UVA skeet shooter, was runner-up with a 96. Charlie Souter won the 20 gauge with the only 100, with Bob King runner-up at 98. Charlie's 98 in .410 outdistanced everyone, with Bob King runner-up at 90. But Charlie was tied at 94 with Bob in 28 gauge.
In failing light, the shoot-off began with Doubles on station 3. After Bob noted that he had never lost a shoot-off in 28 gauge (this was his first), he stepped up and nailed both birds. Charlie broke the first bird, but his Model 12 pump failed to feed the second shell. It was his first gun malfunction, so he got a second chance, nailing both birds. Bob moved on to station 4 but dropped the high house bird. Charlie broke the first bird, but his pump again failed to feed the second shell. It was his second gun malfunction, so he got a second chance, dropping the low house bird. On Station 5 Bob lets a High House bird slip away. Charlie stepped up, somewhat concerned that he had no more allowable gun malfunctions. The gun worked and he nailed the two birds to claim the 28-gauge championship. With three guns in his win column, Charlie also took the HOA championship.
NSSA note: Congratulations to Rivanna Rifle and Pistol Club on their first registered shoot!
– Contributed by Bob King