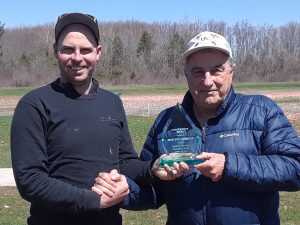 For their first shoot, the club hosted a 100-target 12-gauge event on Saturday April 20, which unfortunately, was not a good weather day for shooting. Forty-four hardy souls were faced with a combination of high winds, cold and rain, but in spite of that, Charlie Peacock posted a fabulous "no chip"100 straight for the outright win. Two 99's were posted by Steve Malcolm, runner-up, and Steve Loveday, third.
Those in attendance enjoyed the great clubhouse and newly renovated kitchen. Many comments were made about how great it was to see Hamilton throwing registered events after such a long period of time. Hats off to the Skeet Committee and volunteers for their hard work and dedication. Welcome back to registered shooting from NSSA!
All shooters are looking forward to returning again, hopefully on a nice, warm, sunny day!
– Contributed by Joseph A. Patko