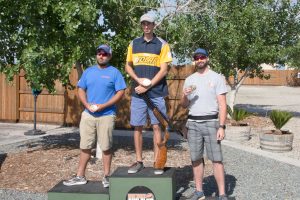 The 2018 Zone 7 Skeet Championships were held the last weekend of April at the Kern County Gun Club in Bakersfield, California. This was the third time that the KCGC had hosted the Zone 7 shoot since joining the Zone 7 shoot rotation and the first time they hosted it in the spring.
Zone 7 shooters showed up in full force with 11 of the 13 Zone 7 states represented – so full that some shooters showed up hoping to luck out on an open spot from a late withdrawal when word of a waitlist began to circulate. There were 16 Sub-Junior and Junior shooters who were treated to special goody bags put together by Katie Fry on the KCGC shoot committee.
As the Doubles competition started to heat up Friday morning, Mother Nature decided to treat shooters to a cool, comfortable weekend. Tanner Bissell won the shoot-off for champ over Jack Garner (runner-up and Junior champion), and Nick Ballentine claimed third after a shoot-off against Brett McLaughlin (A1) and Aris Melonas (B1).
The 2018 Zone 7 All-Star Team awards were handed out during the Friday night social at the club. It was a fun-filled, relaxing evening. Thanks go out to White Flyer for helping sponsor the two social events.
The 12-gauge event had its usual showing of 100s. Robbie Lopez claimed gun champ, Nick Ballentine edged close as runner-up and Ryan Meger came in third. From there, 99s took class first spots for Rick Curtin (AAA1), Phillip Strelau (AA1), Tanner Bissell (A1) and Wayne Cagle (B1). The Rookie concurrent proved to be a close race all weekend, with Teresa Buckner taking rookie champion for the 12-gauge event.
Lopez returned to the champ spot on the podium with a 100 in the 20-gauge event, beating Cash Farnworth, who turned in his first 100 straight. Matt Rittman bested the crowd of 99s for third. Kaitlyn Koenig was Lady champion, and Buckner took the Rookie championship by one bird over Chanson Yang.
Nick Ballentine continued to step up on the podium, this time as 28-gauge champion, followed by Jack Bernardi (runner-up) and Billy D. Williams (third). The Junior concurrent is always impressive to watch, and this time, local shooter Joe Fry finished as champion over Ryan Meger and Steven Bivins. The Sub-Junior race was tight all weekend as Stephen Hendrix finished as champion with his 93, followed by Tais Perunova (92), Lola Fitzgerald (91) and Zyler Thomas (90).
All eyes were on the scoreboard as the .410 scores began to come in. Phil Strelau posted a 98 and a shoot-off win for champ over Jordon Hirschi (runner-up) and Steven Bivins (third). This set up the HOA championship shoot-off between Bivins, who prevailed to win the championship, Ballentine (runner-up) and Strelau (third). The Sub-Juniors continued to make their mark with Stephen Hendrix as Sub-Junior champ, Lola Fitzgerald collecting a D1 award and Tais Perunova the E1 spot. Kaitlyn Koenig took Lady champion honors, and Chanson Yang was Rookie Champ.
The Zone 7 Skeet Association would like to thank the KCGC staff and shoot committee for their efforts in ensuring a great shooting venue.
– Contributed by Gail Lambrecht
Click on any photo to enlarge it.