If you read my article in the January 2019 edition of Clay Target Nation,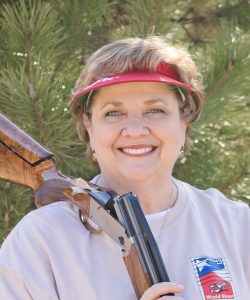 you may remember my journey into skeet shooting and the formation of Chicks Breakin' Clays! This women's instructional group at the Oklahoma City Gun Club has grown significantly as more and more ladies learn about it. Part of its growth is due to the Women On Target (WOT) event held annually in September at our club where 400 to 600 women receive instruction on a variety of firearms, including pistols, .22 rifles, AR-15s, and shotguns. This year will be the 20th anniversary of this amazing program. WOT is what inspired me to learn how to shoot a shotgun and the game of skeet, and eventually motivated me to earn my NSSA Level 1 Instructor certification due to my joy of teaching new shooters. One of my goals was to recruit more ladies to become NSSA certified instructors, which has happened. Two of the Chicks from the OKCGC earned their Associate level certification in February, and another from Tennessee is currently signed up for a Level 1 class.
Working weekly with my Chicks group and seeing their growth inspired me to achieve my NSSA Level 2 Instructor certification in September 2018. The two-day training class is held yearly immediately before the Mini World,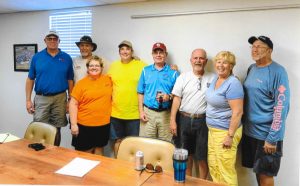 at the National Shoot Complex in San Antonio, and is conducted by Master Level Chief Instructor Ralph Aaron. Ralph has structured this training to include candidates for Levels 1 through 4, with each level having a master level instructor overseeing the group and assisting a current Level 3 instructor wishing to become a Level 4. It was exciting to meet people from all over the United States and an Australian man working on his Level 1. There was so much energy and knowledge in the meeting room that I was flying high on the clouds each day of class and for many days and weeks after! My enthusiasm prompted my husband Brent to pursue his Level 2 certification this year.
Ralph brought together a panel of authorities in the field of skeet to share their knowledge with us, including Gary Burley, NSSA Director; Todd Bender, World Champion and Master Level instructor; Todd Nelson, professional gunfitter; Billy Williams from Briley; and Sam Cherry from Decot.
Part of the requirements to become a Level 2 instructor include being A Class (previously or currently) in one gun with 100 hours of logged Level 1 instruction, or B Class in one gun with 150 hours of logged Level 1 instruction, or B Class in one gun with 100 hours of logged Level I instruction PLUS three new registered shooters with a minimum of 300 registered tournament targets. Another component of the Level 2 certification is doing a presentation to the group. My assigned topic was chokes (which I feared would be rather boring – but I was wrong!) and I was amazed at how much I learned. Each member of the Level 2 class presented on a variety of topics, which furthered our knowledge of the many facets of the game of skeet. I learned a lot from my fellow Level 2 instructors from South Carolina, Arizona, Florida and Minnesota.
For those of you who are currently Level 1 instructors trying to decide if you want to pursue your Level 2 certification, I highly recommend you make the trip to San Antonio. It was an awesome experience!
– Contributed by Paula J. Tate