Chief Paduke Gun Club was selected by the state association to host the 2018 Kentucky State Championships. A full slate of gunners attended, with participation being the highest of the last 10 years.
In Friday's Doubles competition, Missourian Mike Galloway carded the best score with a 99. Barry Stevenson proved to be the best of in-state contestants with his 98. Class winners were Ron Thomas A1 (97), Dave Duncan B1 (95), Wayne Wiksen C1 (91) and Leigh Lesser D1 (82).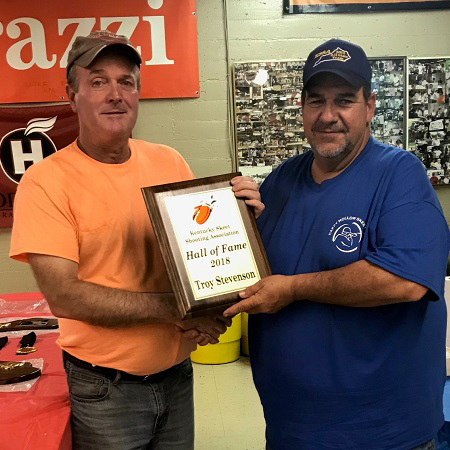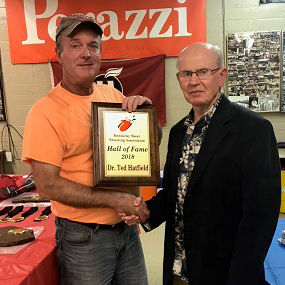 As shooting resumed on Saturday, three shooters broke them all with the 12. Joe Charles, AA, was joined on the shoot-off field by two B-class entrants, Hobart Miller and Kevin Parrott; coincidentally, both are members of the Jefferson Gun Club Team, and it was the first 100 straight for each. Parrott prevailed in the Doubles shoot-off, leaving his co-competitors with first place in their respective classes. Other class winners were Barkley Lister A1 (99), Bob Toy C1 (96), Barry Garner D1 (96) and Milton Stevenson E1 (92). Miller and Parrott, joined by Wiksen, Rick Corneliussen and Andrew Amrhein, combined for a 491 to take the coveted club 5-man team trophy back to JGC for the next year.
Michael Schlarman prevailed in a three-way shoot-off of 100s for the 20-gauge championship. Joining him for the tie-breaker were Tom Selley, AA1, and perennial state champion Troy Stevenson. Dave Duncan broke 99 birds for first in A. Other class winners included Richard Ladd B1 (99), Johnny Evans C1 (97) and John Oliver D1 (89).
In appreciation of the stellar turnout, Chief Paduke hosted a fish fry on Saturday evening, a tasty offering prepared by Earl and Ann Yarbrough. Following the dinner, the annual KSSA business meeting was conducted. A highlight of this year's affair was the introduction of the first class of the Kentucky Skeet Hall of Fame. Members of the first class were Gene Wentz, Keath Hammon, Troy Stevenson and Ted Hatfield. Ted traveled from Florida for his induction, and it was great meeting one of the true legends of skeet, both on the state and national level. The efforts of Ken Ford in getting the Hall of Fame effort started are much appreciated.
The sun kept shining on Sunday, as the competitors gathered for the final day of the shoot. Schlarman brought home his second gun championship of the weekend by busting all 100 targets in 28 gauge. Winning the classes were Troy Stevenson AA1 (99), Michael Wilkerson A1 (99), Wayne Lister B1 (99), Steve Brenningmeyer C1 (96) and Rick Gonzales D1 (92).
Ken Ford claimed an outright victory in .410, as he was the only shooter to break all 100 targets. Heading the classes were Dennis Burns AA1 (98), Barry Stevenson A1 (98), Jeff Pope B1 (94), Hobart Miller C1 (95) and Rick Gonzales D1 (95).
Burns and Schlarman tied for both open and state HOA crowns with 394s, with Schlarman prevailing in the shoot-off. Dave Duncan's (390) consistency throughout the weekend won him the A title. Richard Ladd claimed HOA honors in B by hitting 390 targets. Mike Burrell seized first in C with 376 total. John Oliver bested his D-class competitors with 362, and Zach Kidd was victorious in E with a 288 total.
Chief Paduke Gun Club is blessed with a group of a dozen officers and keyholders, joined by long-time hard-working club members Mike Champy, Tom Collier, and Albert Marshall that each chipped in to make the shoot such a rousing success. A special note of appreciation to Wayne Wiksen, KSSA treasurer for his efforts in coordinating the shoot.
– Contributed by Bob Toy