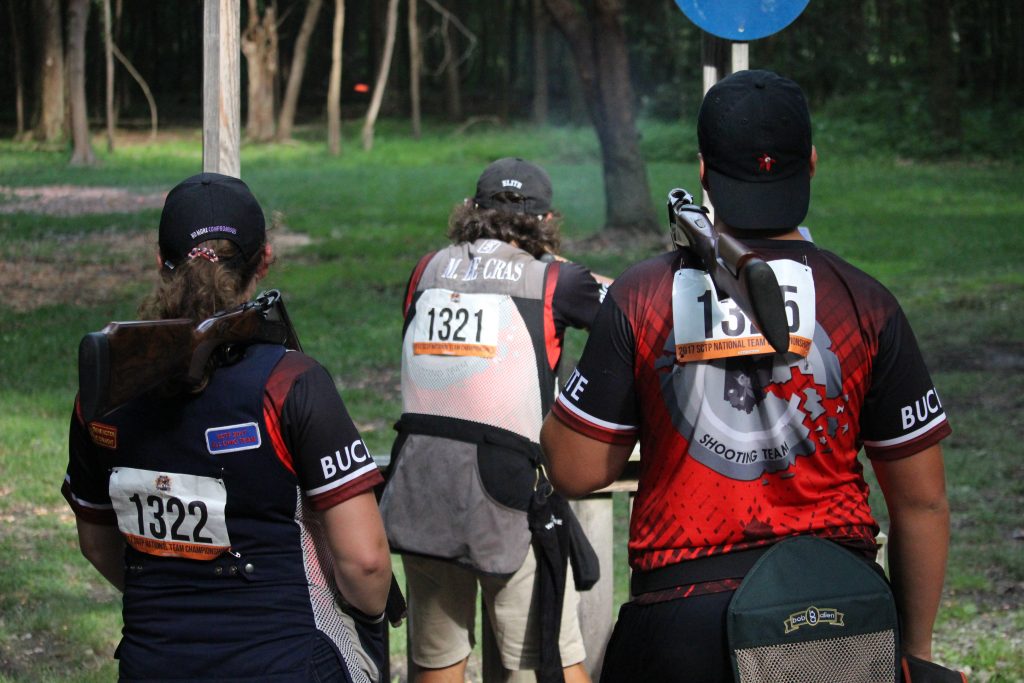 The 2017 Scholastic Clay Target Program (SCTP) and Scholastic Action Shooting Program (SASP) National Championships brought together competitive shooters, ages 8 to 23, from 32 states to compete for national titles in the shotgun disciplines of Skeet, Skeet Doubles, Sporting Clays, American Trap, Handicap Trap, Bunker Trap, and Trap Doubles. Pistol and rifle competitors competed for action steel-shooting titles in Rimfire Pistol, Centerfire Pistol, Iron Sight Rifle and Optics Rifle divisions. The event was July 8-15 at Cardinal Shooting Center in Marengo, Ohio.
This was SCTP-SASP's largest Nationals since the inception of its umbrella organization, the Scholastic Shooting Sports Foundation (SSSF) in 2007, with 213 SCTP and 49 SASP registered teams participating.
1,043,100 Competitive rounds were fired by 2,687 shooting sports competitors from 32 states during the 8-day event. Including games and practice, approximately 1.4 million rounds were fired.
Participation in the Scholastic Clay Target Program (SCTP) increased 19.5%, from 2013 to 2017 (from 1883 to 2251 athletes)
Participation in the Scholastic Action Shooting Program (SASP) increased 119%, from 2013 to 2017 (from 199 to 436 athletes)
Women are the fastest growing segment of the shooting sports, making up 18% of the National Championship competitors (16% of SCTP shooters, 30% of SASP shooters).
This year teams earned $425,000 (SCTP) and $84,750 (SASP) in MidwayUSA Foundation Team Endowment Funds .
With the support of many industry friends and supporting sponsors, including NSSA-NSCA, SSSF has awarded $100,000 in scholarships to SCTP and SASP member athletes this season.
SCTP and SASP make up the largest youth shooting program in the country with over 16,211 youth athletes in 45 states (14,854 in SCTP and 1,357 in SASP) participating as member athletes this year.
6.3 million clay targets were thrown during the 2016-17 SCTP competition season (based on school year cycle) as recorded by the SSSF's team registration and event management system.
SSSF BOD Chairman Louise Terry summarized the event saying, "The SCTP/SASP Nationals, held each year in July, has grown as the programs have grown over the years, and has now become THE major event in our annual schedule. For our team coaches, student athletes and their families, it represents the culmination of all of their hard work throughout the past school year and gives them the opportunity to spend a week with their families and teams participating in the shooting sports that they love. Competition is by age category, so kids of all ages are competing against their peers from all across the country in their own age groups. There is tremendous camaraderie, and many new friendships are made while old ones are renewed."
Immediately following the SCTP/SASP Nationals on July 24-29, the SCTP staff will host the 2017 SCTP International Shotgun Championships at the Olympic Training Center in Colorado Springs, in conjunction with USA Shooting.
Next year's SCTP/SASP Nationals will be July 14-21, 2018, and it will again be hosted at the Cardinal Center.
To see more pictures, visit SSSF's and SCTP's social media accounts listed below.
SCTP Facebook
SSSF Facebook
SSSF Instagram
Click on any photo to enlarge it.